The Latin word Laudate meaning praise. Psalm 117, known by the opening words in Latin as "Laudate dominum" (translated "O, Praise the Lord" or "Praise ye the Lord"),
Laudate is the most popular Catholic App and is free on Apple Itunes Store and the Google PLay Store. It is a source of information and a daily guide for useful tools to use daily.  The ideal app for any Catholic and handy for the on the go youth and those who travel. Carry your Bible and many more useful resources with you.
Daily Mass Readings
Saint of the Day
Daily Prayers including searchable and custom prayers
Interactive Rosary including Latin and Rosary podcast
Podcast for meditation and Daily Rosary
Catechism of Catholic Church
Vatican Documents and much more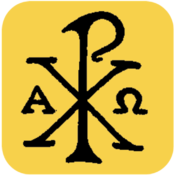 The most popular and most comprehensive free Catholic App. Daily Mass Readings (with Saint of the Day and Reflections). Liturgy of Hours, New American Bible, interactive Rosary and Chaplet of Divine Mercy, Seven Sorrows Rosary, Chaplet of St. Michael, Franciscan Crown Rosary, Latin Rosary, Latin Chaplet of Divine Mercy, Servite Rosary, Chaplet of Sacred Heart, multiple Stations of the Cross, searchable prayers and latin prayers with English translation. Douay-Rheims Bible for offline use. Multiple podcasts for daily meditations and Rosary. Catechism of Catholic Church with ability to bookmark and share. My Prayers lets you store your own prayers and move them between iPad and iPhone. Confession guides through sacrament of reconciliation. Vatican documents: 2nd Vatican Council, Code of Canon Law and more.
https://play.google.com/store/apps/details?id=com.aycka.apps.MassReadings&hl=en
https://itunes.apple.com/za/app/laudate-1-free-catholic-app/id499428207?mt=8#