Alpha is a series of interactive sessions that freely explore the basics of the Christian faith.
It runs in churches, bars, coffee shops and homes all around the globe. Typically Alpha has around ten sessions and includes food, a short talk and a discussion at the end where you can share your thoughts.
Alpha really is for anyone who's curious. The talks are designed to encourage debate and explore the basics of the Christian faith in a friendly, honest and informal environment.
The talks cover topics such as:
• Who is Jesus?
• Why did Jesus die?
• How can we have faith?
• Why and how do I pray?
• Etc
The format of ALPHA 2015 course runs over a period of 10 weeks
INTRODUCTORY DINNER 10 June 2015
COURSE STARTING DATE 17 June 2015 – 19 August 2015
VENUE Our Lady of Fatima Hall
DAY Wednesdays (10 weekly sessions) R35/meal or donation
TIME 19:00 – 21:00
WEEKEND AWAY 24 – 26 July 2015 Manyano House Paarl (Cost R450 p/p)
CELEBRATION DINNER 26 August 2015
The Alpha coordinator is Darroll Carolissen, who has a core team who will be assisting him
If you are curious about finding out more, please sign up after mass for the Intro dinner on 10 Jun 2015 and thereafter you can decide whether you would like to be part of this journey.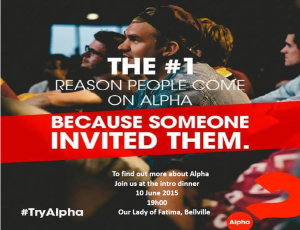 For Enquiries please contact me via the contact form below.